Sophie Jackson-Smith - Sales Administration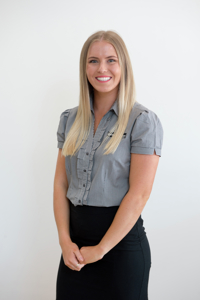 Office: 02 6638 0144
Phone: 02 6638 0144
Professional, hardworking and enthusiastic, Sophie Jackson-Smith is excited to be joining the Cardow & Partners Coffs Harbour team. Having had a taste for real estate in her final years of schooling at Cardow and Partners Woolgoolga, Sophie soon realised that providing customer service to the public was very rewarding and a career path that she wanted to embark on.

With this in mind Sophie pursued a position in the hospitality industry and has gained invaluable experience in dealing with customers in a variety of situations, this is reflected in her professionalism and positive attitude to her work along with her immaculate presentation she is a real asset to the industry.

A born and bred local girl from Woolgoolga and having enjoyed growing up on the Coffs coast provides Sophie with a wealth of local knowledge. Enjoying a relaxed healthy lifestyle Sophie is looking forward to expanding her career in real estate!